ABOUT US
In The Groove was established in 2017 and was inspired by the power of music to educate, engage, heal and connect. Our programs and classes are largely inspired by West African rhythm and song, as traditionally this music is entwined with community, society and culture. We believe that music can act as a powerful vehicle in facilitating learning, building relationships and generating positive change.
What does "In the Groove" mean?
Being "in the groove" is about being in your element and performing with confidence. It also refers to a sense of flow and being in the moment. We can be in the groove in a personal sense and also in relation to others. Being in the groove with others requires sensitivity and understanding in order to reach complete synchronicity. We believe that a life lived well is a life lived in the groove. Through rhythm we can learn much about ourselves and others. Come and groove with us!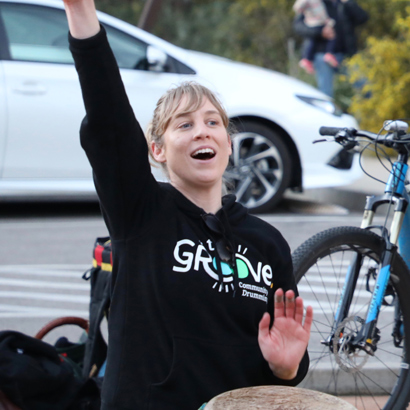 OUR TEAM
Brianna Slattery (Director)
Brianna has a Masters of Education with a focus on drumming and student engagement. She is an experienced teacher, having taught in primary, secondary, adult and flexible learning settings over the past 10 years. Her musical grounding was on the piano, which she played for 10 years. Brianna has a passion for rhythm and is familiar with both African and Brazilian drumming styles. She has studied intensively in Ghana, West Africa and has learnt from a number of teachers from Burkina Faso, Ghana, Guinea, Mali and Senegal. Brianna has a passion for integrating teachings around personal development and social skills into her classes. She founded In The Groove in order to offer arts-based programs that focus on the many benefits that result from engagement with rhythm and creativity.
We are proud of our involvement within the local community. We have provided services for the following schools and organisations:
Albury Wodonga Mental Health
Benalla Flexible Learning Centre
Benalla P-12 College
Benalla Rural City Council
Borinya
Devenish Primary School
Down Syndrome Victoria
Illoura Residential Aged Care
Marian College Myrtleford
NESAY – North East Support and Action for Youth
NEMA – North East Multicultural Association
North East and Border Mental Health Service
Rangeview Private Nursing Home
Rural City of Wangaratta
St John's Village
Tallangatta Neighbourhood House
The Centre For Continuing Education
Tomorrow Today Foundation
Towong Shire Council
Upper Murray Family Care
Victorian Department of Health and Human Services
Villa Maria Catholic Homes
Waminda Community House
Wangaratta High School
Wangaratta Primary School
We have been involved in the following community events:
Beechworth Golden Horseshoes Festival
Benalla Come and Try Day
Down By The River, Wangaratta
Eldorado Food Share
Harmony Day
Live4Life Benalla
Relay For Life
R U OK Day
Step Up For Down Syndrome
The Benalla Festival
Thrive Health & Wellbeing Festival
Wangaratta Farmers' Market
Wangaratta Makers' Market
Wooragee Weekly Produce Market
CONTACT US
We'd love to hear from you!
For program enquiries, class bookings and quotes, please get in touch with us via email or phone. Alternatively, you can fill out one of our online forms and we will get back in touch as soon as possible!
email info@inthegroove.education
ph 0429 862 277