Welcome to In the Groove…
Established in 2017, In the Groove was inspired by the power of music to educate, engage, heal and connect. Our programs and classes are largely inspired by West African rhythm and song, as traditionally this music is entwined with community, society and culture. We believe that music can act as a powerful vehicle in facilitating learning, building relationships and generating positive change.
What does "In the Groove" mean?
In The Groove is a musical term that has evolved to have a powerful meaning that expands beyond the music. Being in the groove is also about being in your element and performing with confidence. It refers to a sense of flow and enjoying the moment. We can be in the groove in a personal sense and also in relation to others and the world around us. Through rhythm, we can learn much about life.
Education
Learning is a lifelong mission.
Our aim is to make it fun, dynamic and memorable.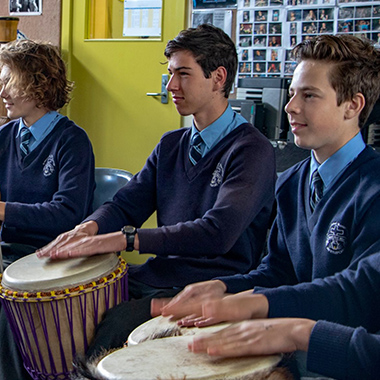 Engagement
Our tailored programs harness
the power of rhythmic analogy to boost engagement.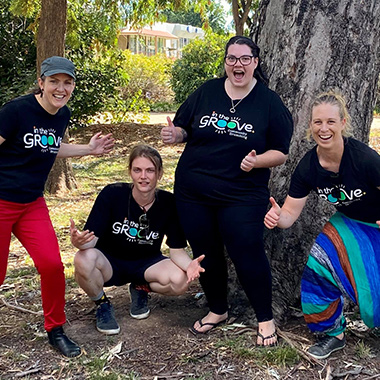 Community
Music is a powerful uniting force. We harness the power of rhythm to connect individuals and communities.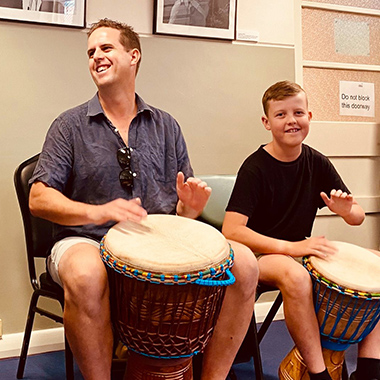 Wellbeing
Music and creativity enhance the wellness of individuals and communities. Our sessions are conducted with wellbeing in mind.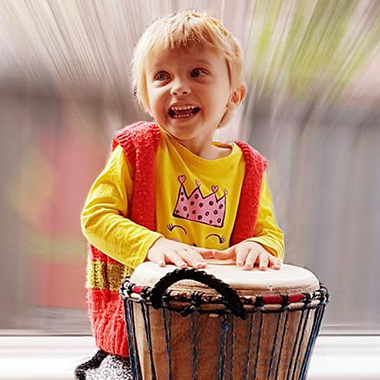 "When we started this program, I had no idea it would end with this usually reserved bunch of kids stepping out of their comfort zone so much! They LOVED it… I have a whole school of kids wanting to drum now!"
Cassie Lynch – School Principal, St.Michael's Primary School, Tallangatta
"Being part of a drumming group is a real privilege. There is this really powerful yet gentle unfolding of group support, especially when you are feeling at your most vulnerable. It truly is the medicine that our communities and modern ways of life now lack, nobody is left out or feels separate from each other."
Belinda Gadsby – Community Drumming Participant
"Thank you so much, our staff loved your sessions, we have had fantastic feedback! Love your work!"
Sam Ridley – Department of Health and Human Services
"Drumming has taught me that you can always pick yourself up and start again 'til you get it right."
Student Engagement Drumming Program Participant
"Drumming really helps improve my mental health and wellbeing! The drumming community is friendly, happy and the classes have lots of laughter! I always feel mental clarity after a class. Online drumming has been great to connect with other humans and have some "me" time!"
Online Community Drumming Participant
"Drumming is fun to do and makes you feel connected and involved."
Student Engagement Drumming Program Participant
"Thank you for providing a wonderful experience for the students at Devenish Primary School! We had a great time drumming, singing and moving!"
Cazz Hicks – School Principal, Devenish Primary School
"If you want to get into drumming and making music with others, you cannot do better than this! Brianna has an amazing ability to teach complex rhythms in a fun and challenging way. Highly recommended!"
Matthew Rispin – Community Drumming Participant
"Drumming for me is always fun. It's great for the mind and body and is absolutely wonderful for the soul. Meeting lovely, fun-loving people is an extra bonus."
Marg Hochfeld – Community Drumming Participant
"Congratulations on running a successful program that keeps our kids engaged, teaches them cooperation, listening skills, pulse, rhythm and body movement without them even knowing they're in a class"
Parent of Student Participant
Thanks for grooving with us!
We are proud of our involvement within the local community.
We have provided services for the following schools and organisations:
Albury Wodonga Mental Health
Alpine Children's Services
Appin Park Primary School
Belgrate Preschool Wodonga
Benalla Flexible Learning Centre
Benalla P-12 College
Benalla Rural City
Borinya
Carraragarmungee Primary School
Charles Sturt University
Choice Learning Wodonga
Connextions
Devenish Primary School
Down Syndrome Victoria
Environment Protection Authority Victoria
Gateway Health
Glenrowan Primary School
Illoura Residential Aged Care
La Trobe University
Marian College Myrtleford
Moira Shire Council
Mulwala Public School
NCN Health
NESAY – North East Support and Action for Youth
NEMA – North East Multicultural Association
North East and Border Mental Health Service
Rangeview Private Nursing Home
Rural City of Wangaratta
St John's Village
St Michael's Primary School, Tallangatta
Tallangatta Neighbourhood House
The Centre for Continuing Education
Tomorrow Today Foundation
Towong Shire Council
Upper Murray Family Care
Victorian Department of Health and Human Services
Villa Maria Catholic Homes
Waminda Community House
Wangaratta High School
Wangaratta Primary School
Westside Community Centre
Winton Primary School
Wodonga City Council
Wodonga Flexible Learning Centre
Yarrawonga College P-12
We have been involved in the following festivals and community events:
A Day In The Gardens Market, Benalla
Albury Wodonga Sustainable Living Festival
Beechworth Golden Horseshoes Festival
Benalla Come and Try Day
By The Banks Music Festival
Down By The River, Wangaratta
Eldorado Food Share
Galah Bar, Hothouse Theatre
Harmony Day
Live4Life Benalla
Off Grid Living Festival
Play Music On The Porch Day
Relay For Life
R U OK Day
Step Up For Down Syndrome
Summer In The Parks
Tallangatta Community Market
The Benalla Festival
The Cube Chillout Sessions
Thrive Health & Wellbeing Festival
Thriving Together Numurkah
Upstream: Festival of Art + Culture
Wangaratta Farmers' Market
Wangaratta Makers' Market
Wangaratta Winter Fest
Wooragee Weekly Produce Market