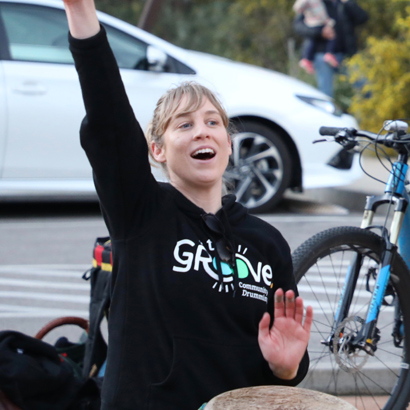 Brianna Slattery
Director / Facilitator
Brianna has a Masters of Education with a focus on drumming and student engagement. She is an experienced teacher, having taught in primary, secondary, adult and flexible learning settings over the past 12 years. Her musical grounding on the piano was the catalyst that sparked her passion for percussion. After discovering hand drumming in her late teens, Brianna developed a keen interest in both African and Brazilian drumming styles. She has studied intensively in Ghana, West Africa and has learnt from a number of teachers from Australia, Brazil, Burkina Faso, Ghana, Guinea, Mali and Senegal. Brianna has a passion for integrating teachings around personal development and social skills into her classes. She founded In the Groove in order to offer arts-based experiences that harness the power of the Arts (and particularly music) to offer engaging educational experiences, encourage positive social connection and boost community wellbeing.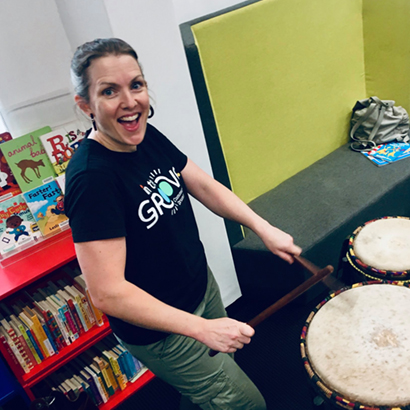 Emma Phillips
Facilitator
Emma started West African drumming in 2016 and officially joined the In the Groove team in early 2019 and has gained valuable experience in facilitating community jams, school workshops and team builders. African drumming has become a passion for Emma, not only through the joy of learning and playing the music herself but also through seeing the hugely positive impact it has on others in her wider community. She has a deep appreciation and interest in the music and culture of West Africa and will be studying intensively in Ghana in January 2024. Emma also comes from a highly creative background and has studied and worked extensively in both visual and graphic arts and has run her own design business for the past 10 years. She is the creative force behind the 'In the Groove' brand! You'll find some of Emma's work at mergestudio.com.au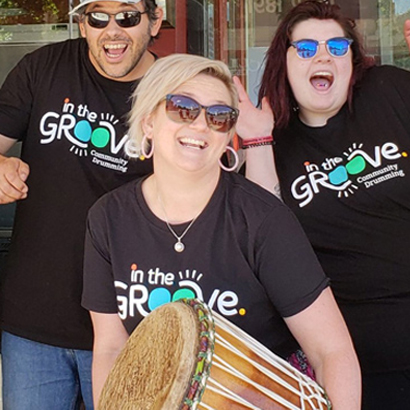 Amanda Earnshaw
Facilitator
Stepping up from her unofficial role of resident hype chick, Amanda is very excited to join our team as an assistant facilitator. Musical rhythm has woven in and out of Amanda's life for over 25 years through middle eastern dance, electronic dance music and, for the past 4 years, through drumming with our In the Groove community. Amanda is passionate about accessibilty and inclusion. She is dedicated to creating a safe and supportive environment for our groovers.
Georgia Nyman
Facilitator
From drumming and percussion to flute, singing, dancing and guitar, Georgia has always had a passion for music and witnessing it's ability to connect and positively impact people. She ventured into the world of African drumming in early primary school performing within the community and across the state.  With a strong desire to help people she has assisted in running workshops and a rehabilitation drumming program for clients with chronic neurological impairments. When she's not making music you'll find Georgia out exploring nature, behind a camera or in the kitchen whipping up wholesome food and content for her blog foodieegee.com (all the while still whistling, humming and groovin' to music of course).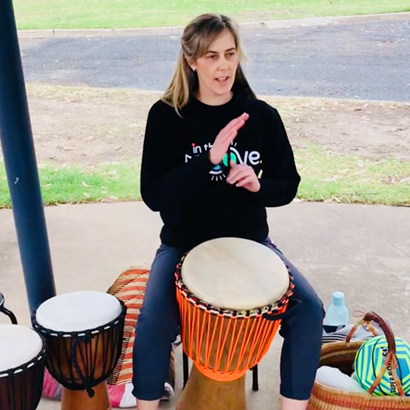 Georgina Wills
Facilitator
Georgina is an experienced teacher working in music education in primary schools for twenty years. She started drumming with students in 2009, running successful programs in schools focussing on community performance and engagement, and social development. Georgina has experience in developing new and innovative programs that use drumming and rhythm work for neurorehabilitation, early literacy intervention, and social skills. In 2010 she received a national award for excellence in school music education from the Australian Society for School Music Education, and in 2016 was a state winner and national finalist in the Nieta Inspirational Teacher Awards. She is passionate about music education and its intrinsic worth, believing that everyone can participate with music-making.